Choosing the right packaging machine can bring many benefits to a business. A carefully selected machine can increase productivity, lower costs, and reduce product rejection. Given globalisation and emerging technologies, packaging machines can help businesses compete and open up new markets.
Naturally, adding any machine to a production line requires an investment of time and money, so a business needs to consider exactly what it expects. Selecting the wrong option can waste money if a machine isn't consistent or does not suit your present and future production processes.
In this guide, we will highlight some important considerations for any business considering procuring a packaging machine. When you have to spend every dollar wisely, understanding exactly what you need, right from the start, is crucial. It allows you to talk with suppliers and give them a detailed idea of what you need for your production line.
Productivity
One of the first considerations is the productivity gains that your production line can realistically achieve. You can buy a huge machine that fills thousands of containers per hour, but if your conveyors, other machines, and employees cannot handle the increased throughput, the extra efficiency is wasted. On the other hand, buying a slow machine can itself create a bottleneck, especially if you need to ramp up production quickly.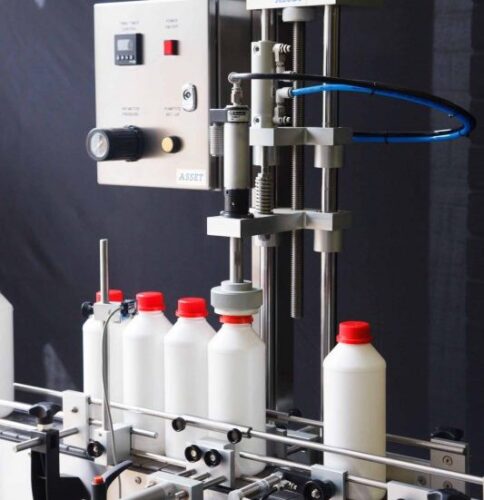 One useful tip is to look for machines that you can upgrade. For example, maybe you can convert from semi-automatic to fully automatic, or buy additional filling heads. Of course, you also need to check that your other machines, such as cappers or labelling systems can also cope. Naturally, an established packaging machine manufacturer with experience across a range of industries can give advice about realistic business projections.
Filling Type
As you would imagine, different products require different attributes from a packaging machine. For example, if you want to invest in a liquid filling machine, thick creams and pastes may need to use a piston filler mechanism, while standard liquids can use gravity filling.
Carbonated liquids need bottom-up filling heads to prevent foaming, while bulk containers can use pump filling. With an understanding of your product characteristics, a machine manufacturer can provide you with the right advice.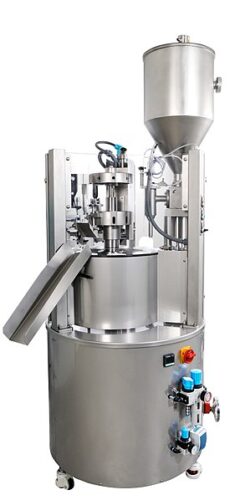 Fill Volume
The volume of your containers will also determine which machine you need to invest in. For example, the Asset Packaging AV3 series can fill containers as small as 5ml, while the larger AV5 series can fill containers up to 5L.
Filling accuracy is also an important variable. Without consistent volumes, overfilling can lead to wastage, while under-filling risks your business falling foul of customers and regulators. Some manufacturers guarantee a filling accuracy of +/-5% on their machines. At Asset Packaging, our machines fill to +/- 0.5% accuracy.
Durability and Customer Support
When you are making a long-term investment, you want a machine that lasts and will not need replacing. While cheaper machines are tempting, if they break down, you have to factor in the cost of repairs, the loss of money during downtime, and letting customers down.
Another issue is support, because some overseas companies make it difficult to contact customer support, or leave you waiting a long time for new parts. Using an Australian supplier means immediate support and stringent Australian standards mandating excellent build quality and superior components.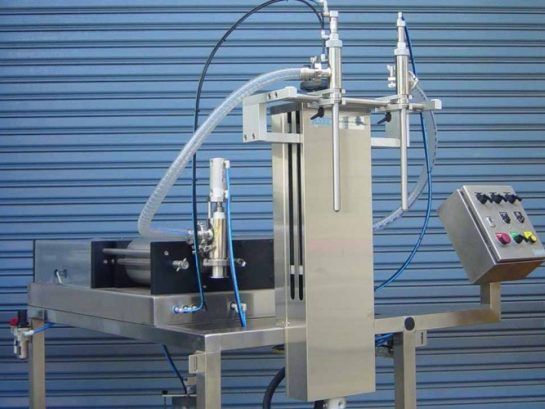 Adaptability
If you are a manufacturer with many different products, finding adaptable packaging machinery is paramount. You need machines that can cope with different container shapes and sizes, while capping machines might need to handle different sizes and configurations such as pump heads and sports caps.
You might want to add extra filling heads, to increase productivity, or use a range of cardboard packing boxes for packing products. Again, your machine provider will advise you on how to ensure packaging machines meet all your needs.
Consistency
Any machine should be able to offer consistent quality whatever the product and for all types of packaging. Misplaced labels, poorly sealed containers, or inconsistent product filling levels all counteract any productivity gains you make.
Manual, Semi-Automatic, or Automatic
For some small businesses, a manual machine is the perfect option, such as a manual filling machine, where the operator physically depresses a lever to add a cap. Manual machines are cheap, durable, and very easy to maintain, but are slower.
For other businesses, a semi-automatic machine, working with a human, frees up time for other tasks. However, where a production line produces high numbers of units, a fully automatic machine like the AMF series can be a great investment.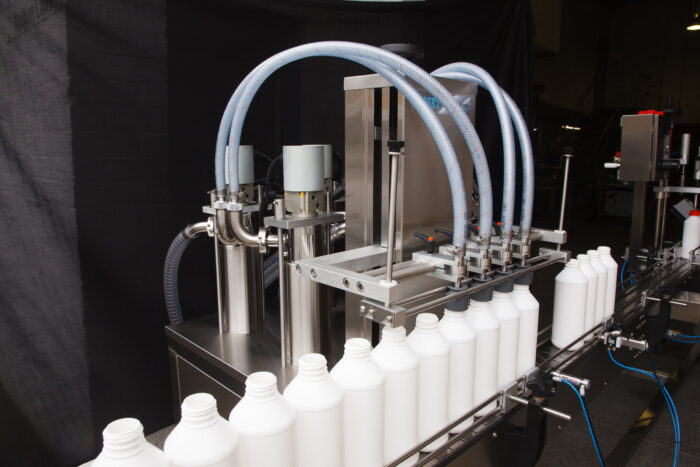 For maximum flexibility, some machines are semi-automatic but allow a full upgrade when the situation demands. You can even temporarily hire the additional automation if the supplier offers rental options.
Hygiene and Clean Rooms
For the food industry, hygiene is crucial, so machines constructed from easily cleanable stainless steel and food-grade components are essential. The unit should be easy to take apart and clean, with minimal downtime. Heightened requirements for the pharmaceutical industry mean that machines should be able to operate in a clean room.
Labour
The main benefit of packaging machines is that they increase productivity while reducing labour costs and freeing up employees to work elsewhere. However, you also have to account for the time and money needed to train and employ operators. For most businesses, low complexity and user friendly controls are important, as well as a supplier who offers support and training from the start.
Workflow and Space
At the conceptual stage, a business should work out how the machine will fit into your workflow, and determine if you will need additional machines for capping and labelling, or conveyors to move products quickly. In addition, you may need to retrain staff or recruit extra employees for packing and maintenance.
One aspect of packaging machinery often overlooked by businesses is floor space. You need to make sure that the machine physically fits, especially if you need additional equipment such as hoppers, accumulating tables, or the additional containers needed to ramp up production. This is where an experienced packaging machine installer can support you from the start, customizing a system to suit your facilities.
Buy or Hire
In some cases it may make more sense to rent a machine rather than buy one. This offers all of the benefits without the long-term commitment while you try out the new technology. Renting is also perfect for seasonal orders and testing new product runs.
Be Aware of Your Needs
With these considerations, you have an idea of what you need before starting the process of investing in a packaging machine. This makes it easier for your potential supplier to understand your business needs and develop targeted solutions. Whether you want to increase productivity, focus on filling accuracy or support your workers, they will help you find the right system.
Conclusion
Overall, packaging machines offer a great opportunity for businesses to invest in the future and work alongside a supplier to maximise the benefits while reducing the risks. At Asset Packaging Machines, we have supplied packaging machines to many Australian businesses of all sizes, and we know how to match your needs to the perfect solution, whatever your industry.